"All the world's a stage," said Shakespeare. Along with a new role for Market and State, new characters such as Household, Commons, Society, and Earth are required on stage in the 21st-century economics' play.
This post belongs to a reading series of Doughnut Economics by Kate Raworth. For quick access to all chapters, please click here.



Disclaimer

: This chapter summary is personal work and an invitation to read the book itself for a detailed view of all the author's ideas.
Setting the Stage
The conventional economics' play has its key characters tacitly named "through the most iconic diagram in macroeconomics, the Circular Flow," says Kate Raworth. This diagram was given to the world by Paul Samuelson in Economics, a college manual published in 1948 (the latest edition is from November 2010). Originally devised to simply illustrate how money flows in the economy, the Circular Flow soon came to define the economy itself, thus "determining which economic actors were placed centre stage and which were shunted to the wings."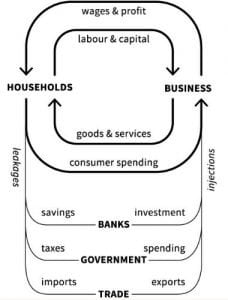 The play broadly unfolds this way: "Centre stage is the market relationship between households and business. Households supply their labour and capital in return for wages and profits, and then spend that income buying goods and services from firms. It is this interdependence of production and consumption that creates income's circular flow." The Circular Flow system is consequently closed and complete. To its inventor's credit, it has proved to be a useful base for figuring out different ways of measuring national income and for making visible various macroeconomic ideas. But this diagram's limitation is, precisely, that it only illustrates the flow of income, thus leaving out of the picture key elements embedded in the real economy—notably the energy and materials on which economic activity depends, or the society within which those activities take place.